As part of my research into natural horsemanship methods, I have been researching clicker training – especially after the great demo I saw last weekend.
Clicker training is an operant conditioning method for training an animal using a clicker, (a small mechanical noisemaker like those old party favours we had as kids), as a marker for desired behaviour.The clicker is used during the beginning of training a new behaviour, to allow the animal to rapidly identify that a behaviour is sought and then uses positive reinforcement such as a treat to enforce the behaviour.
Clicker training was originated through Marian Bailey (née Kruse) and Keller Breland, who as psychology graduate students during WWII taught wild-caught pigeons to "bowl" (push a ball with their beaks). Their professor was B. F. Skinner, who had first identified and described the principles of operant conditioning. Similar methods were later used in training at least 140 species including whales, dolphins, bears, lions, chickens, dogs and cats, and even humans.
Keller Breland, and otter
There are some amazing websites out there, including some with online courses such as Karen Pryor's clicker training .com, but my favourite sites for horse training are these:
Georgia Bruce's Click with Horses.
Georgia is from Kuranda in Far North Queensland (about 8 hours of north of where I am in Mackay). She has represented Australia in Dressage on eight occasions, most recently at the 2008 Paralympic Games where she won two bronze medals riding Carolyn Lieutenant's 18hh horse Victory Salute. She also competes successfully in open dressage to FEI level as well as cutting, western events, horse sports, hacking and reining. Georgia specializes in training young horses and retraining problem horses and gives lessons and clinics around Australia helping people to get the best out of their horse and achieve their goals.
I have ordered the Introduction to Clicker Training - 3 DVD Set , which includes: The Science of Clicker Training, How Horses Learning, How to Shape a Behaviour, Step by Step Instructions for Introducing Your Horse to Clicker Training. Clicker Training for Groundwork and Desensitizing and more. Nearly 3 hours of Clicker Training with a variety of horses. ($99.95).
Georgia is an amazing rider and trainer, and has even taught her horse Rumba to paint.
The other great site is Equilog, which has great fact sheets you can print, as well as a good links page. There are also some basic videos to watch, and they have a shop
Kumalong is another Australian resource for clicker training, but is aimed solely at dog owners. They do have great clickers and coils for purchase though.
Alexandra Kurland is a pioneer and leading voice in the development of clicker training for horses, and she developed her method after that of Karen Pryor's. She is the author of "Clicker Training for Your Horse", "The Click That Teaches: A Step-By-Step Guide in Pictures", "The Click That Teaches: Riding with the Clicker", and "The Click That Teaches" video lesson series. Her website, The clicker centre has amazing amount of information and resources, such as videos.
The Best Whisper is a click is an American site, and host Peggy Hogan is a respected clicker trainer who has based her style on that of Ms Kurland. The site has lots of downloadables, including videos.
Katherine (Katie) Bartlett has also studied with Alexandra Kurland, and her website Equine Clicker Training is fantastic, with lots of great photos and stories, as well as ideas to get started in clicker training.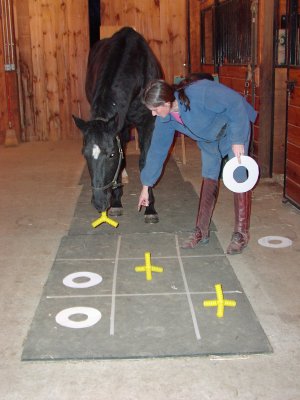 Willy plays nought and crosses.
Lots of reading to do!
Deb xx