Tana's sore foot turned out to be a stone bruise and abscess, which while painful, was pretty quickly fixed compared to the tendon problem we feared. It could have been caused by the change in environment, moving from soft green pasture to a more rocky environment, as well as a change from a wetter to a drier environment, or she could have knocked her hoof during her travel up in the truck. It could even have occurred before she arrived.
Once the abscess travelled 'up' the hoof and ruptured out the coronet band Tana was walking well. She has had soaks in epsom salts, poultices, magnetic boots on and antibiotics – everything really as I have not wanted to get her shod. I know some people recommend shoes to prevent stone bruises, but they can also cause them. Here is a great article about hoof problems in horses, and the author (Chrisann Ware,an Equine Myofunctional Therapist), shares my view that horse shoes slowly deform horses' hooves.
I am looking at getting Tana removable boots (like mine!) for when we go on trail rides, but in the meantime I am just building her (our) fitness with some gentle lunging and work in the round yard, and we might start gentle riding this week. All boots are different, and I would prefer to find a farrier who stocks boots so they can be tried on first. There are many different brands and fastenings too.
These velcro boots can also have extra fastenings added – see the Easycare range here - they start at about $87 each.
See the space age looking strap on renegade range here. At around $130 a shoe, they come in a range of colours too, including red!
The Equine Fusion jogging shoe in red and black are around $225 a pair.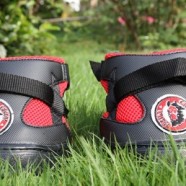 Cavallo have a few different boots too, at around $170 a pair.
Tana is taking well to her new diet, and has not lost any condition since moving here three weeks ago. Hopefully the added nutrients, including sea weed meal, will improve the health of her hooves too. I am also thinking of trying a hoof support supplement, such as this one from Easycare Downunder.
Bare hoof trimming is a real art, some may say science, especially when you start talking about things such as the correct alignment for the pedal bone. I am only just starting to learn about it, and I would love to be able to trim myself one day. Until then I aim to find out as much as I can about the correct way to trim, so that I can make sure whoever I use is doing a good job!
There are some great articles by Pete Ramey at Hoof Rehab.com,and when I am feeling richer I am going to get a copy of Sarah Bell's How to Barefoot Trim for the Complete Beginner, which is available as an e-book for about $55.
Happy trails
Deb xxx